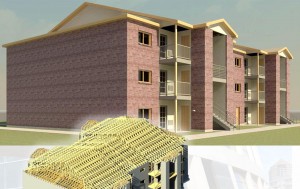 At McNeil Engineering, we are structural engineering experts. Check out one of our most recent projects, the Midvale Plex Apartment Complex in Utah, to see some of what our professional structural engineers can do for your next project.
McNeil Engineering provided structural engineering design services for the three-story, 24-unit apartment building using the CAD software Revit Structure. Revit Structure is a fully integrated physical and analytical modeling program used in BIM design.
The complex is designed to stand the test of time! The structure uses a prefabricated truss roof system on timber framed walls with a plywood web I-joist floor system. Because the Wasatch Front is at risk for seismic activity, the Midvale Plex Apartment Complex was designed to the 2009 International Building Code in seismic design category D. Category D is one of the highest design categories in the country.
Click here to check out more photos and descriptions of our Structural Engineering work.